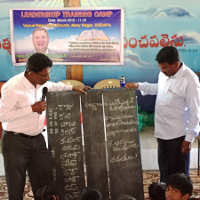 Perhaps the greatest need discovered over the years of working in various third world and developing countries is training for pastors, church leaders, ministers and business people. We saw pastors getting a couple of scriptures written out on paper to share with congregations. These pastors didn't even have complete Bibles. Thousands and thousands of church leaders work without any Bible training at all or any courses to build leadership skills. In conversations with many people and looking over Bible school courses, we learned most ministers get little to no courses in working with people and managing a ministry. Bible school students learn Bible and graduate with degrees but are ill-prepared to work with people in a ministry.
Clear Vision Ministries Leadership Training provides crash courses including but not limited to:
How to Study the Bible

Defining Leadership

15 Characteristics of a Good Leader

Understanding 5 Levels of Leadership

Being an Effective Coach
In consultation with local leaders and depending on the need of the group we work with and the number of training days, we choose the appropriate courses to share. Also, we develop custom training as needed. Attendees are amazed at the amount of new skills, knowledge and abilities gained in a few days as compared to other seminars and conferences they attended in the past. Ministries applying the principles learned often improve and increase effectiveness in a very short time.
The big difference in the CVM training philosophy revolves around involving participants in the learning process. We created all sessions using adult learning principles and adult learning styles in the material. We present proven Biblical principles for success in ministry and business. We get reports all of the time of ministries doubling, tripling and even larger growth from year to year after applying what they learn in our sessions.